Archive for February, 2010
by daviid on Feb.26, 2010, under Racing
Ill do this day by day.
Myself and a few friends left our shop at 4pm on thursday afternoon. 2 Hours later just north of Columbia, SC. we lose the motor. it stats knockig badly. So while we wait for our friends wife to come pick us up, we have to unhitch the trailer and put the truck on a tow truck. She finally comes and gets us (2 hours later) and we begin our drive back to Mooresville (Just north of charlotte). So around 1030 Pm we begin our journey back. By now i realize there is no way im doing the Team Hammer Practice day on Friday. We finally get the trailer loaded up again around 1230 am and continue onto fresh ground.
around 3am after getting gas in GA. we accidentally got on the north bound land and stuck there for 15 miles. We finally roll into the speedway at 715am. 15 hours after we left for the track. Normally it only takes about 6-6.5 hours.
I was completly turned off from doing the team hammer day, even though i wanted to shake out the new bike. so i ended up entering Lightweight Superbike, Lightweight GP, Ultralight SuperBike, CCS Thunderbike & ASRA Thunderbike.
We get inside and get ready to start unloading. i move a ton of fuel around and prepare to unload the bike. the first thing i noticed is my cheapo clutch lever is broken. Good thing Street & Comp is here, I needed some stuff anyways.
Anyways, i spent the day just doing various setup related items. I also got the bike suspension setup by John of CTR Suspensions. JB also got my pitbike running for the first time in 6 months.
The one thing i really hate about Daytona is tech inspection, it wouldnt be so bad if you didnt have to push your bike up a 2 foot tall ramp.
Tomorrow consists of 2 rounds of practice and CCS Thunderbike, & ASRA Thunderbike qualifying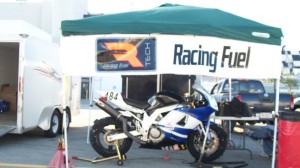 Leave a Comment
more...