by daviid on Nov.24, 2013, under Flying
Today we continued on learning how to read weather forecasts in ground school. I really don't recall too much specifically from this class other than we went through a full briefing from DUATS. Mark my CFI has had me doing this part of the ground school class for sometime now.
After lunch i met my Mom, Dick (Step Father), Kaitlyn (Sister), Rob & Linda (Family friends) for lunch at Wings. Afterwards I brought them over to PFC and showed them N569FL while I preflighted it. It made Kaitlyn's day getting into the Co-Pilot seat and I explained to her what everything did.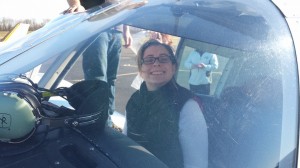 After a bunch of fan fare and autograph signing period, I grabbed Mark and prepared to go over todays flight quickly. Mark informed me that he wasn't feeling well and that we would need to stay low today. No problem. We get in the plane and do some final checks and begin to taxi. Mark asks me if I want to work the radio today and I declined as it was a busy day and I wasn't feeling comfortable for the first time on the radio with so much traffic. Once we are at the run up area we do our final checks and get permission to take off. ATC informs us there is a another aircraft on long final so we need to make it fast. No problem.
While taking off we noticed that it was quite slugish, but end up blaming it on the fuel truck putting as much fuel in the plane as they physically could. Once we get clear of the airport we begin to head towards Groton. Mark has me keep it under 3000′. I performed some basic manuevers, but we mainly just kept a nice smooth flight. I ended up flying along the coast and checked out all the nice expensive beach houses. We ran into quite a bit of traffic as well. I remember seeing 4 or 5 planes as well as a helicopter.
As we get close to Groton I make sure to keep it above 2500′ to avoid breaking into Groton's Airspace. Mark starts asking me questions about which runway is what and where we would have to go in order to get to Runway 23. As I am flying around the airport, Mark notifies ATC that we are about 5 miles away and above their airspace. We get a clearance to land. ATC responds asking if we are NW of the airport and to keep heading towards Foxwoods as there is a faster plane on approach. We quickly found the other plane and were granted permission to land after him. I did what I thought was a great job landing and I taxied back to Runway 23. After a quick take off and landing we are cleared back to Hartford.
As the same on the way out, we really did nothing. Just a few turns here and there but thats it. Once back in Hartford we requested a straight in landing and it was granted. This was my first landing where Mark didn't say anything really. When we got done he complimented me on using my judgement on when to add power and to take it out. I think I might be getting to have this down.
| | | |
| --- | --- | --- |
| | This Flight | Total |
| # of Take Offs | 2 | 12 |
| # of Landings | 2 | 12 |
| X-Country Hours | 0 | 0 |
| Night Hours | 0 | 0 |
| Total Flight Time | 1.5 Hours | 10.1 Hours |
Airports visited so far: KHFD, KGON, KOXC, KHVN, KIJD
No comments for this entry yet...